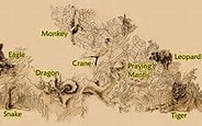 cont - The Third-in-a-Series, I am relating my personal commitment, inner-actions and beliefs to a tremendous life long journey to discover my identity. During a time which cultures were beginning to have an impact on communities, these practitioners were also showing their own identities for recruiting followers of their imported martial arts' skills. They were also making a life-long journey to achieve their own dreams crossing continents for
healthy and spiritual benefits to expand their traditional cultures.
The early immigrants that entered into the United States (U.S.) after the end of World War II (WWII) (1945+) were men looking for opportunities to support their families. Since that time, many Americans and British soldiers were stationed in Asian countries which exposed them to the region's fighting system. ie. Aikido (aiki-jujetsu), Hapkido, Judo, Karate, classical Chinese Karate, Okinawan Karate, Wrestling, Chinese Gung Fu, and other various Chinese self defense systems. The number of laborers that entered the country had experiences in skilled and non-skilled areas. Because there were more than enough opportunities, it did not matter at-this-time what these jobs demanded. The phrase "Gim-Sum Mountains" was afforded to those who work !
These included physical labor in the agricultural industries, building construction, the clothing industries (sweat shops), and the long hard hours in the food industry. Because of the jobs created from these opportunities, many of these laborers had to find a relaxing point to cope with the mental stress. The majority of employment available were for men, however, there were a few women included in these early days in America. The social clubs initiated among themselves because of the language barriers and the secrecy that is still very much visible. These clubs included card games, Mah-Jong , a game of chance (a form of dominoes), and Tai-Chi-chuan exercises (a form of Chinese Martial Arts).

---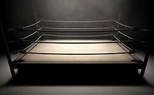 Among the men laborers during this time, were some with skilled experience in Chinese Martial Arts. From their early childhood before migrating to the U.S., physical sport's contact was a large part of learning curriculum. Each student in their early development was required to accept, captured and honed these skills for national pride. However, these skills were not enough to provide for the needs of the family and survival in the years that followed from the turmoil of the Far East after the world wars. My connections and exposures to these many stories (1950+) were exchanged from my father to his many conversations with his male friends in the "Benevolent Associations". The early days and years of my physical and mental training was encouraged from my father. He shared many stories he had personally witnessed with me because of my curiosity to the history of Chinese martial arts. However, the self commitment was left up to me if I wanted to expand my knowledge, mentally and physically. Since the age of five, I have seen the first form of physically challenged contact. Growing up in a diverse neighborhood gave me opportunities to be exposed to these confrontations watching skilled boxers (pugilists) applied their expertise. The small areas in these gymnasiums included an elevated 10'X10' boxing ring. (standard 16'X20') Also, there was plenty of areas surrounding
the ring for shadow boxing, speed-bag for alertness and timing, weight lifting, and physical agility for strength. I took advantage of the equipment and exposures to witness 'great-bird-eyes-view' training for extra self improvements.

---

Many of the participants were either currently to become the next great champion-of-their-dreams, or just wanted a place to belong and be part of the opportunity. The students were mostly young boys like myself, but also included several young girls as well. I was amazed that the girls was more physical and serious than the boys.
The fact that I was small in stature had given me an extra incentive and need to be able to protect myself, my brother and sisters. This determination also gave me an early advantage to learn these special training exercises to be proficient to defend my honor and self esteem. The early years of my training gave me self confidence which I had not been able to explain?

These basic skills practiced daily through repetitive motions over-and-over prepared me mentally and physically. I was
never a sickly child, as neither were my siblings growing up in a tight oriented family structure. I remember my younger brother watching me go through these exercises with a curious, But careful manner. Little did I know that he was also interested in grasping these skill levels that I have achieved over the years. I have acknowledged that learning traditional Chinese Martial Arts' parallels great traditional Family Values. An example I observed is quite evident when noticing young children with their parents. The code of self respect and losing face provided the Chinese culture excellent discipline.
Commitment, Loyalty, Perseverance, Respect, are qualities that is taught from learning martial arts' skills. It can be challenging as the early-basic-skills are drilled into the student's mental and physical routines. There are always the days that you may experience frustrations, especially when these simple movements are Not-What-You-Expect to become a Chinese Martial Art's Expert. The skills and mind-set are expressed with practice time, where Defeat, Loss or Quit
were Not Words uttered in the student's early development.

---
The Fourth-in-a-Series, During the 1960's, a youthful John F. Kennedy (JFK) became the 35th United States
President (1961-1963). It has in history came to be known as "Camelot", a place of idealized beauty, peacefulness,
and enlightenment. Several special memoirs will be remembered as one-of-the-greatest gifts nature may have given to us. This era in time also introduced martial arts' giant icon GGM Al Novak. Along with JFK, they were shipmates during
WWII on the same PT-109 Boat. Also the beginning of the decade (1960's) brought to America, a young brash "Bruce Lee". This young man not only made a splash-on-the-scene, but also a tremendous impact in the chronicles of martial arts' history. The event of these happenings would be well documented in our American history for decades (1960s-1980s). GGM Al Novak set the early stages for non-Chinese students to learn martial arts in the United States. Bruce Lee set the future for his contributions as he reached out to the movie industries with his messages to be "strong and proud".
I draw your attention to my personal experiences and thoughts as I share my curiosity with my students and to the readers. The time frame was during my youth and some of the skills that I have benefited from that gave me confidence, focus, patience, pride, and trust as I progressed in martial arts. The first time I watched these special skills was from an 'uncle' going through his rituals and repetitive movements practicing T'ai Chi Ch'uan. The forms, movements, and patterns of his postures was exhilarating that it gave me a vision that was to be a large part of my martial arts' training. This is
quite evident as I continued to be absorb with these skills.
An early opportunity to witness martial arts was the Annual Bok Kai Festival in the City of Marysville, CA. It is an event held since 1850s during the Chinese New Year activities. It is celebrated and honors Bok Eye, the Chinese Water God, who protects Marysville from flooding. A Gung Fu Master with special . . .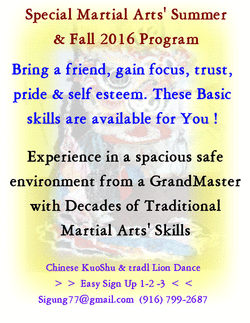 < Special Introductory Gift for your Initial Lesson plans >
Limited Offer - 40% off our Professional Rate$$ after the introduction months
Di$count rates for 3+ family members
New @ 2017 Beginning Chinese Lion Dance, no experience necessary
Easy Sign Up & Join the Fun for Every One
Inquiry Now !!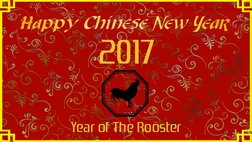 Peace, Longevity & Good Health !
Si_Gung Thom W. Louie 师公雷泽鸿