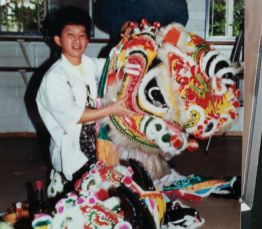 Greetings to martial art's practitioners
This special link will be reserved to the icons, legends, known as " the pioneers " and traditions that
had changed and made a difference to the life styles of world seekers for health benefits and self defense. We will be introducing each student to their early trials, tributes, and the results as taught by these amazing and honored martial artists. These great practitioners will be remembered for their highly regarded achievements in the chronicles of historical events in Chinese Martial Arts.
Si_Gung Thom W. Louie 师公雷泽鸿 will personally instruct and
provide his candidness as these special and historical treasures of
​each of these sessions are taught in the lesson plans. Each student will be introduced with skill fundamentals starting with proper hand, feet,
and eye co-ordinations. Basic exercises will be emphasized for balance.
Chinese Gung Fu, Kung Fu , martial arts 中国功夫 has enjoyed a long history and is famous all over the world. It is accepted and deeply cherished by Chinese people, and has gained world-wide status. It is
​often selected as one of the Top 10 Things To Do in China. Listed below are some of the most unique and flourishing hometowns in Chinese Kung Fu :
​
1) Cangzhou (沧州), 2) Tianjin (天津), 3) Songshan (嵩山), 4) Mount Wudang (武当功夫),
5) Foshan (佛山), 6) Jiaozuo (焦作), 7) Bozhou (亳州), 8) Mount Emei (峨眉山), 9) Quanzhou (泉州),
10) Yongnian County (永年), 11) Huaiyang County (淮阳), 12) Mount Hua (华山), and 13) Dengfeng (登封) .

The following photos are special events from the adventures and travels throughout the journeys of the master instructor's quest to find the benefit treasures of the martial arts from these amazing practitioners.

---
First and Foremost is my opinion that parallel "Traditional Martial Art's Training AND Strong Family Values". There is
no secret for a successful and healthy career than Hard Earned Work. These two thoughts proved that Foundations with a Vision can be achieved with support from Both. The lessons that I learned holds true to form based upon my 56+ years in martial arts and the support of my family that provided the ' glue-to-this-tremendous-bond '.



This is a First-in-a-Series to one-of-the-early-pioneers in Chinese Martial Arts. I met
the late Great Grand Master Brendan Lai (黎達沖) (1942-2002) 7-Star Northern Praying Mantis (七星螳螂拳) back in the latter part of 1970. This great practitioner had developed a following of loyalist in the early years of his migration to the United States in the early 1960's. GGM Lai hosted the 1984 All Kung-Fu Masters Exhibition at the San Francisco Civil Auditorium. This gathering produced some of the current most recognized practitioners in the world of martial arts today. Familiar personalities such as: the late
GGM Shek Kin and GGM Lee Koon Hung, GM Hung Lai, GM Wing Lam, GM John Leong,
GM Y.C. Wong, GM Tat Mau Wong, GM Doc Fai Wong, and many, many others has since came forth to share the traditional benefits and rich history of their own proper legacy. ​GGM Brendan Lai's martial arts' school and kung fu supply store has become legendary and was the talk-of-the neighborhood back in the Mission District of San Francisco, California in the 1970's. His son has carried on his dreams from his passing on 09/23/2002, with a new family-run store front in the Bernal Heights neighborhood.
The same professionalism exist today to carry on the spirit and visions of Great Grand Master Brendan Lai. His
many loyal students has continued with the tradition of this amazing martial art style; the 7-Star Northern Praying Mantis (七星螳螂拳). My time spent will remain priceless and forever memorable.
One of my first fighting apparatus was the popular " Wing Chun Muk-Yan-Chong " , I had purchased and personally addressed to me from GGM Brendan Lai. He became known to me as the American music legend " Dick Clark " with his ' Jet-Black ' hair trademark. I would continue my contact and friendship with this incredible man as I made numerous visits to his kung fu supply store for additional weapons and to listen to his many tales of his own childhood roots. Ironically, it was this same time that I was introduced to the great martial art's personality in GGM Al Novak. This gentle giant of a man continues to be a great figure in Chinese Martial Art's History.


---

Important Note: The " Wing Chun Muk-Yan-Chong " is considered one-of-the-most useful apparatus as a training tool when it comes to dependability, durability, and reliability. I would personally recommend this equipment for self-training skills as it is always available at any given moment. The Choy Lay Fut System also has a training tool called, " Ching Chong Wooden Dummy ". At first glance, the additional spring-loaded limb and movable parts with a 'spinning top spindle' makes this apparatus a definite compliment for any training partner. This type of training remains and continues to be my favorite all-time work out tools. There are different martial arts' styles that has also included this apparatus into their regimen. These devices are flexible and very useful when a training partner is not readily available. Over the decades, practitioners has developed improved modifications as it has become part of our tremendous Chinese Martial Art's history of traditional training devices.


---


​ GGM Novak's accomplishments and feats were many since his early years as a WWII Navy serviceman. He had served on a PT boat during World War II, training along side future President John F. Kennedy. These legendary figures had through their own admission and acknowledgments, developed a friendship that would last many decades of admiration in their deeds to carry on the traditions of Chinese Martial Arts for future generations. GGM Novak's passion for the martial arts, did not denied him the opportunity to be a non-Chinese to study kung fu in early America. This was exemplified by his seven decades of practice and perseverance admired by all. GGM Novak has chronologically been placed into our history. His unique personality has brought forth a trust in the community.
Special Note: (more on the late GGM Al Novak in upcoming articles)
Though I was not officially a student of the GGM Brendan Lai, he treated me with the same upmost respect as his own behind-the-scenes practitioner. My fascination of his skills will be long remembered and lodged into my personal history of perseverance from an individual that definitely played a major impact in my early training days. These are some candid words from this great practitioner that I will remember and to present to my own future students ; "To earn 'respect' , is to gain 'respect' with the deeds of your actions" as stated by the late GGM Brendan Lai (黎達沖). I uphold these simple, But important thoughts for keeping with tradition.


---

The Second-in-a-Series of martial arts' adventures introduced me to a long line of living legends during this important time of the 19th Century. The early Chinese immigrants to America West, the California 1849 Gold Rush, known as the-land-of-the Gold mountains 金山(Gim Sum) has brought not only settlers for a better life,
but also brought forth legendary pioneers of Chinese Martial Arts' practitioners. These artists' were held in high esteem, especially if they were student practitioners of the Shaolin Monastery Martial Arts.
The following names of these great martial artists will be introduced in no particular order. We as students have a code-of-ethics, to not grade each stylists as who is superior, or what style is better. Again, the
words of a great grand master," to gain 'respect' with the deeds of your actions ". Ironically, this same concept has been a family value that has long been followed and taught in the early migration of Chinese immigrants. The new vision to emerge for a better life in a foreign land has given settlers with this accepted wisdom. ​
In California, GGM Ark Yuey Wong (1930s), (Douglas L Wong) an established master of Guangdong's southern Shaolin kung fu methods, and GGM Lau Bun(1930s), (Doc Fai Wong) a traditional master of the
southern martial art of Choy Li Fut, were two of the early pioneers that allowed and opened the doors to outside cultural families. While only a handful of non-Chinese students began studying kung fu, both of these two important figures were very instrumental to establish martial arts' schools in the latter part of 1950s.(current master students). This new drawn interest created the first Chinese martial artist, great Grandmaster Ark Yuey Wong to grace the cover in the January issue of Black Belt magazine. (1950s) These great martial arts' pioneers became leading authorities and figures throughout the early days of civilization and the development and settling after the Gold Rush of 1848.
As part of the long celebrated early beginnings of Chinese Martial Arts' in America, research has proven that
without the large Chinese immigrants that had entered in the 1920s, this impact would not have made such an enormous imprint to our existence. Case-in-point is the fact individuals wanted to know more about the Chinese martial arts. This created increased American students wanting stories and histories of their lineages.
By the early 1960s, the Japanese arts (Judo, Karate, and Akido) was established in the West. Since Judo was already admitted into the Olympics, many martial artists wanted to know more. The publishing industry had made
media impact prior to television, movie industries, and the age of commercialism. The January 1965 issue of Black
Belt magazine was a major contributor that had focused exclusively on the more popular Japanese styles.
As an early young student in the martial arts, there was not many types of materials available for learning. My
initial teacher was an expert in T'ai Chi ch'uan, a form of internal martial arts. His stances was so precise
and soft, you would not think there was any power behind his movements. This gentle man was physically small,
yet strong in his grip. His length was short, but pin-point to the target, and accurate to the target. This early stage
in my development had created the basis in attitude temperament such as endurance, focus, integrity and patience.
My most critical teacher was my father, who in his own admission was not an expert in the Chinese martial arts. His connections to martial arts is from his many personal contacts in the men's social clubs' associations during the annual Chinese New Year's activities. The following information is important for my personal development as I had the advantages and opportunities to be educated in our communities through these family associations.



The Soo Yuen Benevolent Association (遡源堂) was founded in 1846, in the 26th year of the Ching dynasty reign of Daoguang in Shuikou town in Kaiping County. Reflecting the common original of the Louie, Fong, and Kwong/Fong(hoisanese) families, the Soo Yuen Benevolent Association is made up of members from the three families, with each association chairmanship rotating between the three families.
Wherever there are Chinese communities with the Louie/Lui/Lei (雷), Fong/Fang (方),
and Fong/Kwong/Kuang (鄺) surnames, existing Soo Yuen Benevolent Association halls have been established. Early family and traditions were strictly enforced and followed.
The organization publishes a monthly journal and commits the majority of its resources to college scholarships, elderly support payments and financial aid programs to members of the three families.

These associations were very private and only members that share the family names would be permitted to join and participate in annual functions and celebrations within their communities. The policies and practices are still in existence and valid in these family associations.

As a child, we were required to learn our Chinese culture, heritage, and languages to communicate with our family members. The early years for families of Chinese origins had to be able to bring forth loyalty, pride and perseverance. Our family associations included three major last names; Louie, Fong, and Fung (Kwong). Each

elder leader of these families had a significant influence and impact in contributions for each member annually.

Their exposures and experiences had provided a great learning scale as I was always wanting to learn and benefit from these lessons. Because a need for the families to survived, many of the lessons taught and learnt, was done

in secret, because of the mistrusts and misunderstandings in the early years.

​ My focus and interest became apparent in watching a form of fighting known as boxing. This popular art form is called

pugilist

, a fancy word for a boxer using their fists. It was not only for self improvements, but also for self defense. I was introduced to American Boxing from a local neighborhood center located in an area where diverse cultures existed. My small stature and eagerness to learn drew the interests of the local coach.(1962+) It is through his acceptance and my commitment to achieve, that kept my desires to continued to other areas of physical sports.

The early days learning the skills of Chinese martial arts

中国功夫

has also given me great confidence and focus

to generate levels of perseverance and tolerance for self improvement.

Being youthful had many advantages as my skill levels were quickly shaping up as I become more aware of achieving my future endeavors. Perhaps, my thirst
for self improvement has given me a drive of selfishness to keep practicing past the time frame of the lesson plans.

Curiously to my own admittance, it has polished and honed my ' Boxing Skills ' as well. Two of my favorite training tools was the use of the "jump rope" and the "speed Bag". 'whoosh-whoosh-whoosh' 'rrat-taa-ta rrat-ta-taa-taa'

'whoosh-whoosh-whoosh' 'rrat-taa-ta rrat-ta-taa-taa' 'whoosh-whoosh-whoosh' 'rrat-taa-ta rrat-ta-taa-taa'

It was also the most comical to the other boys and girls as I struggled to reach the antique platform that held onto the speed bag. Using both my feet and my fists would developed a strong desire to follow my interests in the many years that was to become a fixture in my personal life. " Personal Conviction-to-better-Oneself " The one important aspect of learning how to develop physical skills through repetitive techniques is " focus mind control ".

---

The Third-in-a-series . . .The next several great martial art's Grand Masters and Masters were instrumental in my early and personal development as a student practitioner; mentally, physically and spiritually. During the late 1960s -1970s, migrations to the United States had brought forth many new immigrants to a land of opportunity
since the initial period known as " the California Gold Mountains " (1848+). Martial Arts' practitioners has cross over many personal family associations that developed skills meant only for members that shares the family surname.
​ At times, it has brought forth many artists that had great martial arts' skills from the Far Asian countries: China, Japan, Korea, Philippines, and from the countries and provinces of South and Central America. These skilled traditional practitioners developed and worshiped a code-of-ethics, and code-of-honor that has been part their history from generation to generation. These sacred practices has continued to be carried on to this day:

Decency, Ethics, Fairness, Honesty, Honor, Integrity, Morality, Righteous, Sincerity, Tradition, Truth, Values
​
> > > please continued to the " Current Future & Past Generation link " < < <


The following Martial Arts' practitioners and personalities has been lodged into our " Chronological and Celebrated History " of our Asian Cultural backgrounds. We have the abilities to gather our interests from the entertainment industries, to the gymnasiums and basements of a qualified martial art's instructor. We also as human beings have been drawn to individuals with enormous physical abilities to perform talents that has placed them at superficial platforms. Everyone of these individuals followed their traditional roots as they were initially taught from the elders.
However, without the necessary steps to practice body, mind, and soul, none of these great individuals would be available for us to emulate. Please practice humility for their sacrifices and sweat for us all to enjoy. Much Respect.



From the Legends : Bodhidharma / Abbess Ng Mui / Kwan Tak-hing / Wong Fei Hung / Fong Si Yuk /
Lam Jo / Yip Man (Ipman) / Leung Sheung / Bruce Lee / Wong Shun Leong / Huo Yuanjia /
Chan Heung / Tam Sam / Lee Koon Hung / Shek Kin / Ark Yuey Wong / Lau Bun / Brendan Lai /
James Yimm Lee / Wong Ha / Tung-Sheng Ch'ang / Joe Lewis (Karate) / Lung Tse /
Ming Lum / Al Novak / Lau Kar-leung / Poon Sing /Arthur Yau Sung Lee /
Kong Hing / Clarence Tai Lee / Henry Moon Look / Pan Qing Fu
~ ~ ~ ~ ~ ~ ~
To Modern Times : Gordon Liu / Jackie Chan / Sammo Hung / "Jet" Li (Li Lianjie) / Donnie Yen /
Y.C. Wong / John S.S. Leong / Kwong Wing Lam / Buck Sam Kong / Hung Lai /
Vince Lacey / Dave Lacey / Thom W Louie / Shane Lacey / Tat Mau Wong / Mak Hin Fai /
​Chan Yong Fa / Henry Poo Yee / Lily Lau / Gini Lau / Chan Sau Chung /
Chan Pui / Leung Ting / Leung Shum / William Louie (Karate) /
Wong Doc Fai / Dan Inosanto / Fish-Dearier Qiang /
Douglas L. Wong / Lok Sang Lee / Carlos Navarro (Kenpo)
* * * * * * * *
Note : These findings and the researched stories are from my personal memoirs during my own adventures as I shared my thoughts with the students. Please take the time to enjoy, respect, and to appreciate the journeys in finding your own path for self improvements.
Many of these practitioners were simple individuals early in their life. Some had health issues and problems that required attention, and at times special treatments. Most notable was that the
environment had developed them into small physical frames, compared to their counter parts.
However, through perseverance, practice, and mental stabilities, each of these great personalities had over come great barriers and positioned them into outstanding individuals.
To select your favorite martial art for your own special health and benefits,
please refer to the links of the previous pages. A New promotional " Loyalty Membership Card " is included with enrollment. Each class sessions is breathless . . . stay tune . . .

Learn the Highly Skillful art-form of Chinese Lion Dance.
Looking for All interested members to join and initial a New Team.
Inquiry and Sign/up on the contact pages.

Peace and Longevity with Chinese Martial Arts.
Si_Gung Thom W. Louie 师公雷泽鸿
Great news for 3+ family members . . . Now, 40% off our Professional Rates
after the introduction months . . .
Please check the Current, Future, and Past link to Sign Up !


Please select your choice(s) of interest:
__ Chinese Kuoshu __ T'ai Chi Ch'uan
__ Chinese Kuoshu Lion Dance __ M'uay Th'ai Boxing

Submit your interest via Email or Telephone number, the Si_Gung will
contact you directly prior to your First Scheduled lesson

New @ 2018 Beginning Chinese Lion Dance, no experience necessary
Easy Sign Up & Join the Fun for Every One
Inquiry Now !!