This special section will direct your attention to current images, performers, students,
special note and updates for your interests. We stand strong to uphold our traditions and values
to upkeep our commitment to our ancestral history. We appreciate your interests, loyalty
and patience to fulfill your own journeys.

Influence Decisions . . with Chinese Martial Arts & Pugilists
​ My initial introduction to these pioneers of Chinese Martial Arts was an opportunity of a life time. I did not realized
the impact this would create or that it would be such a significant part of my childhood. Growing up in a diverse
community was a self-learning experience. We did not have too many friends or neighbors that was easy to identified with our Chinese cultures. Like many Chinese families since 1945 (post World War II), our father & mother were limited in the English language and also too busy working to establish a home for us to grow and to associate with in the community.
We developed a unique family structure to keep our spirits positive & at the same time respect-the-hands-that-feeds-you.
The greatest support to the ' beginning of my martial art's training and experiences ' came from my Father. He had
a natural 'gift-of-story-telling' that left such an impact that I always wanted more. "Mr. Louie" had the keen insight to hang-out with much-traveled men that had experiences beyond their years. The other siblings at this particular time was not as enthusiastic in my strong interest in outdoor sports. My early discovery during the 1960's was the introduction to the art form, "T'ai Chi Ch'uan" (Yang Style). My father mentioned an Uncle practiced these great techniques daily to achieve better health.
From his observation, "Mr. Louie" knew that I was the one with the ambitious attraction to physical sports. During this time, I had enrolled in a local community in our neighborhood to participate in out door sports. (baseball, soccer, & running) However, I noticed that this center had a "Boxing" program for boys & girls. I immediately took interests & drew the attention of my new friends. One of my favorite techniques was
to hang upside down onto the chin-up bar and perform consecutive sets of 50 sit-ups. Because I was much smaller
than most of the boys, the larger & heavier student 'Boxers' had befriended me. They took me under-their-guidance & encouraged me to push beyond my skill level for better results & to never be afraid or hesitant to ask for assistance.
The friendship & respect extended would last a lifetime with my new friends. Brotherhood, Family, & Tradition.

---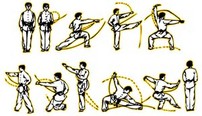 Meeting early Pioneers of Chinese Martial Arts
I acknowledged that the early days of martial arts was limited to the diverse community of our neighborhood. But
that did not sway my adventurous mind to meet some of the heroes-of-Chinese-Martial-Arts. Our father after a long
day ​at work, would always have a story to tell after dinner. As a charter member of the Soo Yuen Benevolent Association (遡源堂) the Louie/Lui/Lei (雷), Fong/Fang (方), and Fong/Kwong/Kuang (鄺) surnames, he had many contacts which included educational & social activities for the family. One of our family favorites was watching invited guests from Hong Kong (British colony until 1997) performing Chinese Martial Arts and the traditional art form of Chinese Lion Dancing. The 1960s brought skillful artists of Chinese Gung fu to our annual events from the "Far East" into California. The opportunities for these pioneers exist in cities such as Oakland, Los Angeles, Sacramento, San Francisco, and Stockton through functions in these Soo Yuen Benevolent Associations. Other cities included are Seattle, Washington and Portland, Oregon. My exposure to these skills include Sil Lum Kung Fu, Hung Gar, White Crane, Praying Mantis, & Wing Chun.
As a young boy, I was very eager to attend these annual banquets during the Chinese New Years' events. My father (Mr. Louie) expressed to these "Masters" that he had 2 boys that wanted to learn martial arts. In order to be accepted as potential students, it requires strict discipline and approval from the teacher (Sifu) and the parent's acknowledgement. After meeting the Sifu, the opportunity to acquire these special skills had begun with once a week training. The Master started my lessons with very basic exercises to show my commitment, endurance, loyalty, patience, and sincerity. Since loyalty is also part of the initial training, we began with building a trust between teacher and student by repetitive stances known as "jop ma". These technique of exercises may last and continued to be applied from 3 months to 2 years. It is the most basic as it involves both legs to perform multiple types of low bending strenuous exercises. Traditionally these exercises provides the foundation as it requires great effort, energy, and exertion. Total focus and concentration necessary

---
During the 1950's, finding a kung fu teacher was not readily available. A secret-code-of-ethics was strictly enforced by the martial arts' community. It was not to be shared unless you were part of their immediate family, and/or approved by the Chinese Association of Family Elders. It was a time when the student "Does Not" ask or question the kung fu teacher on types of techniques that is to be practiced. It was fortunate also for a practitioner to immigrate to a country where the language of origin was not their own. A student showing discipline, loyalty and respect was most important to gain trust.
It was equally important that a good teacher is willing to share their ability and talent with a worthy student. I learned
from the time I was a child, that the abilities to learn comes " from the heart ", as my physical progress continues to improve. My father remembers my first few words I uttered was basically out of curiosity. This early habit carried over
my abilities to see, to speak and to touch towards the object(s) I envisioned. As a child, I was always looking for ways
to explore and try out abilities that I was not able to explain. It was easier to just watch and mentally envisioned the repetitive techniques shown to us as beginning students. The ability to learn and earn this skill requires more than just being there. It is done with participation by physically taking part experimenting techniques by 'qualified teachers'.
Most martial arts' teachers did not have the abilities to explain them in the English languages. However, there were students educated in the English grammar and assisted the Sifu's (teacher) in the lesson plan. The 1950's brought forth businesses that interact with immigrants, locals and travelers from the East coast that had connections with European
and Far Eastern countries. Americans were always fascinated with the Chinese culture, especially the fighting abilities
of Chinese martial arts. The early teachers and instructors kept a low profile to blend in with the community. Some would accept jobs in loading docks, maintenance, and trade to establish a foundation for their own families. Typically, the men that migrated into America would travel alone initially, then after establishing employment, would send for their wives and family members. The travel to America from the Far-East was by ship, which took three months into the San Francisco bay harbor. Our father would tell us stories meeting kungfu masters performing martial arts' skills in the streets from his childhood in Taishan, a county-level city in southwestern Guangdong China. Breath-taking as it . . .

- to be cont -



Chinese Kuoshu 中国功夫 (khoo-shoo), is a combination of Northern & Southern Chinese Martial Arts, which includes the following: Basic Gung Fu ; T'ai Chi Ch'uan ; Trad'l Lion Dancing ; and other South-Eastern martial arts. These unique classes bring forth to the student, many years of inspired systems designed for dance, development, health and self defense for all around benefits. The individual will see immediate improvements based upon the repetitive techniques being taught in a safe environment free from distractions. The instructor will shared many years of personal experiences as each student will gain new insights both as a martial artist and as a person. Enrolling is as easy as 1-2-3. Simply check your favorite choice(s) selection(s). The master instructor will return a personal phone call to you prior to the scheduled First Class session.

Continuous Enrollment 4 Future Stars and Practitioners for personal enjoyment. The choices for a healthier life style begins with
traditional Chinese martial Arts.

Back-to-school Special for Families
Enroll two students for Three months, & the Parent/Guardian
is discounted 20%.
Inquiries gladly accepted by the instructor

Si_Gung Thom W. Louie 师公雷泽鸿
Grand Master (teacher of teachers) in Chinese Martial Arts

---
Peace, Longevity, and Good Health through Chinese Martial Arts .
Si_Gung Thom W. Louie 师公雷泽鸿




2016 is the year of the Monkey, also known as the Fire Monkey 猴 , the ninth of the 12 animal cycle. Individuals born this year are said to be intelligent, clever, and gregarious, but also mischievous. They are skilled and smart, but possesses quick temper and a touch of arrogance. Monkeys can adapt to different working environments because they work very hard. (accounting, engineering, stock market, and Kung Fu)

---

2017 is the year of the Rooster, also known as the Red Fire Rooster
鸡
, the tenth of the 12 animal cycle. Individuals born this year are said to be very accurate and precise with their observation. They find themselves in the spotlight and love entertaining friends and enjoy meeting new people. It is said that if you are born under this sign, it is very unlikely that you are untidy, and usually one of the best dressed and groomed of all people. Because of their strong independent spirit, they find it difficult to accept advice.However, ​the compassionate, wise, and brave nature gives them their social acceptance.
---
Become a New Student Practitioner & Join in the adventure and begin this year with
the opportunity to gain good Health, Longevity, Prosperity, and Wisdom with a
Grand Master 泽鸿 (teacher of teachers) for a better lifestyle.


Please select your choice(s) of interest:
__ Chinese Kuoshu __ T'ai Chi Ch'uan
__ Chinese Kuoshu Lion Dance __ M'uay Th'ai Boxing

Submit your interest via Email or Telephone number, the Si_Gung will
contact you directly prior to your First Scheduled lesson.

Profe$ional rates apply. Includes " loyalty membership " card fees.
Begin with an exercise program that progresses with each forward motion.

> > > Limited Time 40% discount for All New Members after the introduction months !! < < <

New @ 2018 Beginning Chinese Lion Dance, no experience necessary
Easy Sign Up & Join the Fun for Every One
Inquiry Now !!