This special section will direct your attention to current images, performers, students,
special note and updates for your interests. We stand strong to uphold our traditions and values
to upkeep our commitment to our ancestral history. We appreciate your interests, loyalty
and patience to fulfill your own journeys.




Chinese Kuoshu 中国功夫 (khoo-shoo), is a combination of Northern & Southern Chinese Martial Arts, which includes the following: Basic Gung Fu ; T'ai Chi Ch'uan ; Trad'l Lion Dancing ; and other South-Eastern martial arts. These unique classes bring forth to the student, many years of inspired systems designed for dance, development, health and self defense for all around benefits. The individual will see immediate improvements based upon the repetitive techniques being taught in a safe environment free from distractions. The instructor will shared many years of personal experiences as each student will gain new insights both as a martial artist and as a person. Enrolling is as easy as 1-2-3. The master instructor will return a personal phone call to you prior to the 1st class session.

Continuous Enrollment 4 Future Stars and Practitioners for your enjoyment.
The choices for a healthier life style begins with traditional Chinese martial Arts.

Back-to-school Special for Families
Enroll two students for Three months, & the Parent/Guardian
is discounted 20%.
Inquiries gladly accepted by the instructor

Si_Gung Thom W. Louie 师公雷泽鸿
Grand Master (teacher of teachers) in Chinese Martial Arts
​

---
Peace, Longevity, and Good Health through Chinese Martial Arts .





2016 is the year of the Monkey, also known as the Fire Monkey, the ninth of the 12 animal cycle. Individuals born this year are said to be intelligent, clever, and gregarious, but also mischievous. They are skilled and smart, but possesses quick temper and a touch of arrogance. Monkeys can adapt to different working environments because they work very hard. (accounting, engineering, stock market, and Kung Fu) Become a New Student Practitioner & Join in the adventure and begin this year with the opportunityto gain good Health, Longevity, Prosperity, and Wisdom with a
Grand Master 泽鸿 (teacher of teachers) for a better lifestyle.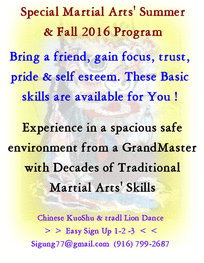 Please select your choice(s) of interest:
__ Chinese Kuoshu __ T'ai Chi Ch'uan
__ Chinese Kuoshu Lion Dance __ M'uay Th'ai Boxing

Submit your interest via Email or Telephone number, the Si_Gung will
contact you directly prior to your First Scheduled lesson.

Profe$ional rates apply. Includes " loyalty membership " card fees.
Begin with an exercise program that progresses with each forward motion.

> > > Limited Time 40% discount for All New Members after the introduction months !! < < <

New @ 2017 Beginning Chinese Lion Dance, no experience necessary
Easy Sign Up & Join the Fun for Every One
Inquiry Now !!